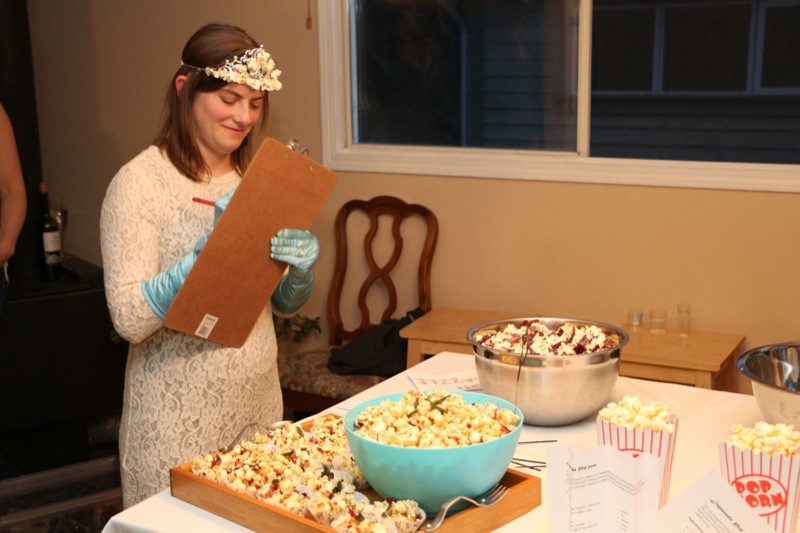 On Friday, April 17, 2015 Marley Bassett celebrated her birthday with the first-ever-of-its-kind "Pop Off" popcorn party. Twenty-four of Marley's friends (2 to a team) were invited to vie for glory by making popcorn recipes in three different divisions: "Savoury," "Sweet" and "Open." Each had 30 minutes to create their dish and then offer it up to our three judges who scored for taste and presentation. (The judges were David the professional chef, Mike the cynic who doesn't really like popcorn and, of course Marley the popcorn princess.)
In actuality we thought this was going to be a fun little event during which our friends would bring their favourite snacking popcorn recipes and we'd all chow down in relative relaxation.
We were wrong.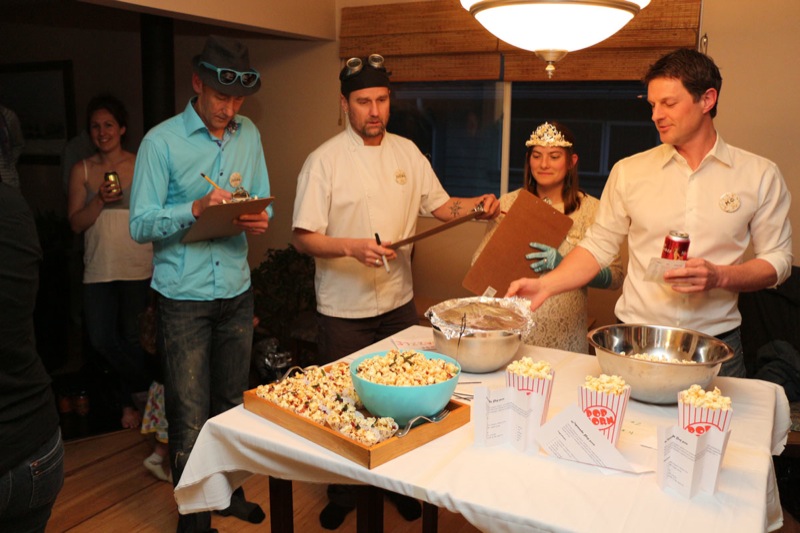 Some competitors practiced for weeks to perfect their popcorn offerings while others purchased expensive truffle oil, organic bacon and champagne to infuse their dish with. At times the kitchen was chaos and it didn't help that the hot-air poppers blew the breakers – twice. Not only were there 24 competitors, three judges and one MC on site, but 50 other friends dropped by to wish the Popcorn Princess a happy birthday. According to one attendee, the party could be heard five blocks away.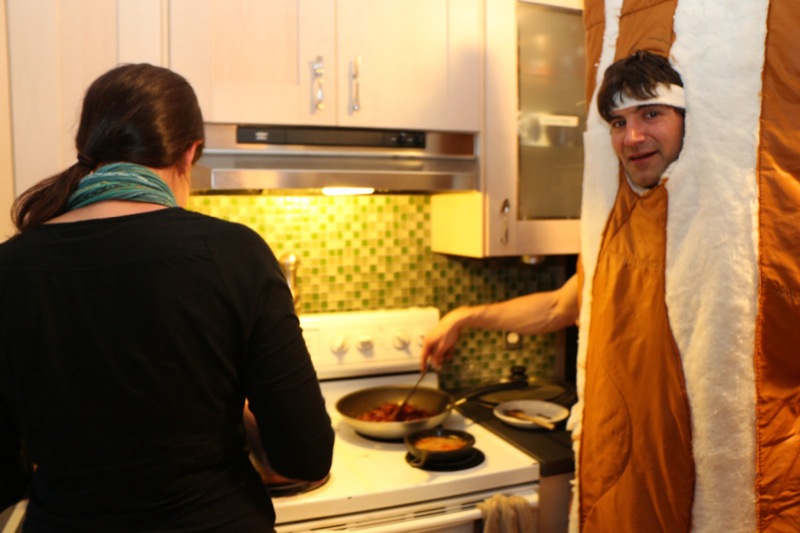 The first category was "Open" and there was a delicious "Japanada – Pop-porn" entry (see recipes below), and no less than two teams used the seductive delights of bacon to woo the judges. One contestant even went so far as to dress in a costume shaped like a piece of bacon. (Nelson later took home the MC's prize for best dressed.) Despite the fancy dress, though, the other team to use bacon won the judge's hearts and stomachs. Dan and Lauren's Maple Bacon Popcorn received the top prize for the Open category.
Dan and Lauren's Maple Bacon Popcorn Recipe
1 C kernels
1 C maple syrup
1/3 C butter
2/3 lb bacon, cooked and chopped small
salt
fresh sage leaves
Pop the corn using your preferred method. Put butter and syrup in a pot and boil for a while so that some of the water evaporates. Sprinkle bacon on top of popcorn and pour syrup/butter over top, then toss so everything gets coated. Add salt. Fry sage leaves in some oil until they're crispy, then salt lightly. Top popcorn with sage. Serve with sparklers.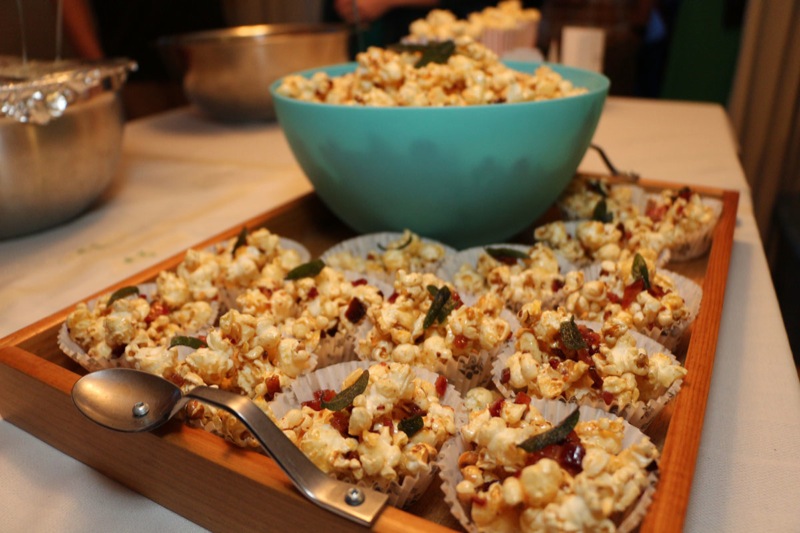 The next category of the night was "Savoury" and by the time that was in full swing the venue was packed and the MC had to scream to be heard: "Only 5 minutes left! Get your popcorn plated!" Alcohol was evident among the party goers as well as the contestants' offerings: two presentations in this category involved booze, specifically champagne and tequila. Perhaps the most inventive presentation of the night, though, was by Chris and Daiva and it was called "Butts, Boobs and Mo Butta." I'll let the VHS cover speak for itself.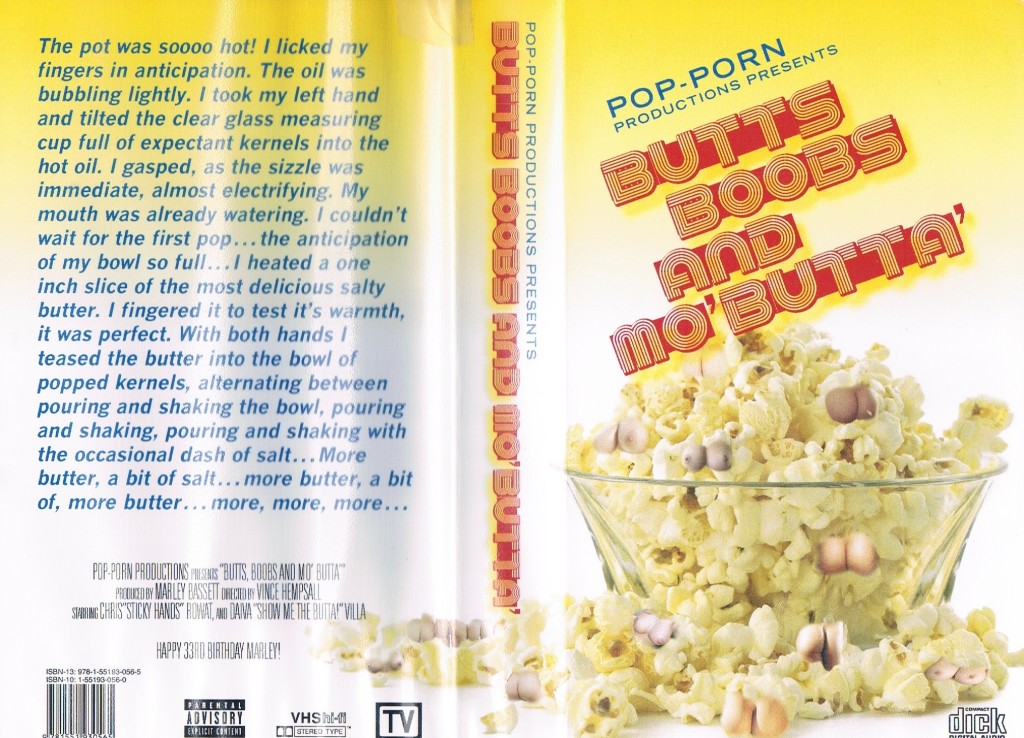 Despite the obvious sexual flare of that entry, it was the tequila that won out in the end, or, more specifically, the spicy fiesta popcorn with a tequila chaser. When Lesley and Steph get off their "butts and mo butta" and share that recipe with me, I'll be sure to post it here. In the meantime, this is the runner up recipe that also had a fantastic presentation: Jenn and Jeremy built a boxed platter similar to the ones used by ballpark hotdog vendors to deliver cones of their popcorn to all the party people in the house.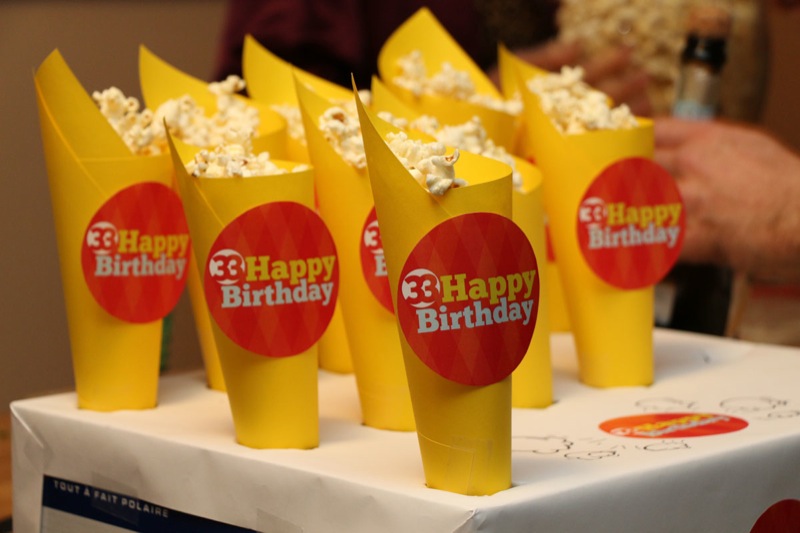 Jenn and Jeremy's Garlic Bread Popcorn
Pop 1/2 cup kernels in popcorn maker of choice (WhirlyPop is best – use 1-3 Tbsps of oil) and then add:
3 Tbsp butter, melted
2 Tbsp grated parmesan
3/4 tsp crushed rosemary (fresh is best)
1/4 tsp garlic salt
1/4 tsp garlic powder
* or in lieu of garlic salt & garlic powder, use 3 drops of "Oleo & Spice" steam distilled garlic oil (available from guy with aviator glasses & braids with booth set up next to Full Circle Cafe most days).  Add drops to melting butter for best results – a little goes a LONG way!
Drizzle butter over freshly popped popcorn, toss to evenly coat. Sprinkle cheese, garlic & herbs over popcorn. Enjoy!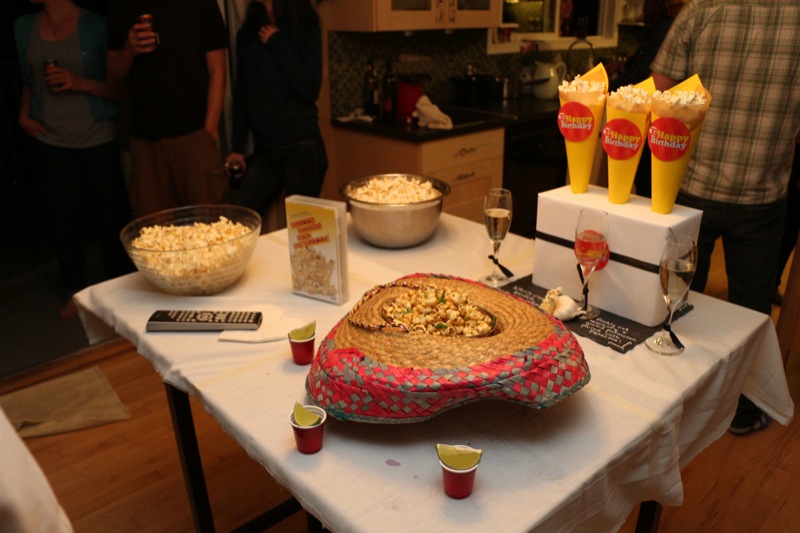 The final category of the evening was "sweet," both literally and figuratively. By now the competition was heated, the booze was flowing fast and the noise levels in the house were at decibels unsafe for human hearing. Two entries in this category utilized specially printed paper bags to present their offerings: one had a photograph of Marley's cat on it and, of course, she melted when she saw it. The other entry by Sarah and Steve had a photo of Marley looking happy on one side and her looking spicy on the other – indicative of the salty and sweet treat inside. Drizzle butter over freshly popped popcorn, toss to evenly coat. Sprinkle cheese, garlic & herbs over popcorn. Enjoy!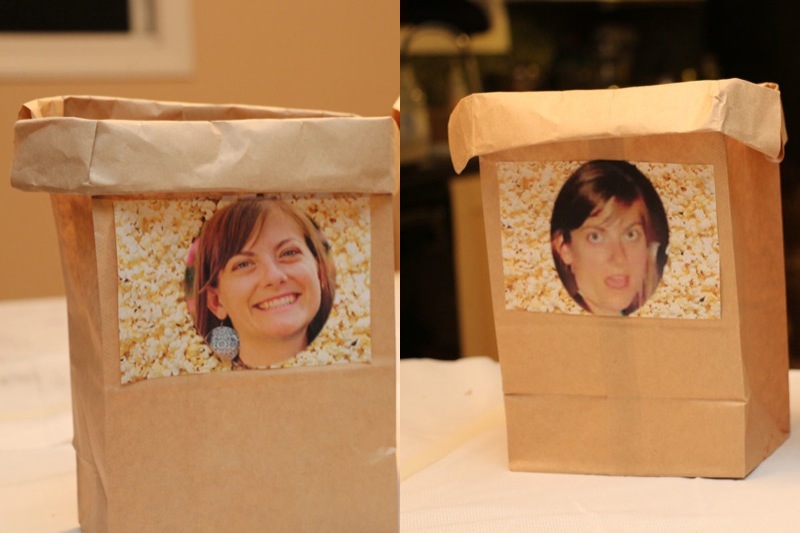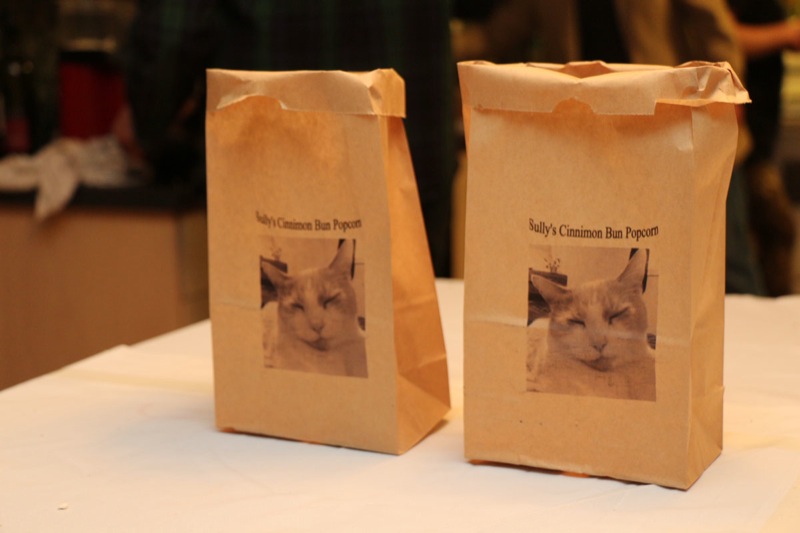 In the end, though, it was the kitty bag, and the cinnamon bun popcorn within its folds, that won the category. Here is Dusty and Jeff's recipe:
Dusty and Jeff's "Sully's Cinnamon Bun Popcorn"
Butter: Split a vanilla bean lengthwise and scrape out the seeds, throw it in a pot (the skin & seeds) with as much butter as you want. Turn on low-med and let it melt away.
Glaze: Add some of the vanilla butter to some icing sugar (preferably organic) and a bit of milk or cream until it's a nice glaze consistency.
Candied Pecans: Toast some pecans in a fry pan… once they are golden and hot drizzle with maple syrup and a dash of Chili powder and continue toasting in the pan until all the maple syrup is coating the nuts.
Popcorn: Pop some popcorn and when it's piping hot drizzle with the vanilla butter, sprinkle with kosher salt and cinnamon. Mix well and then top with the glaze, then add the candied pecans. Serve with a macchiato.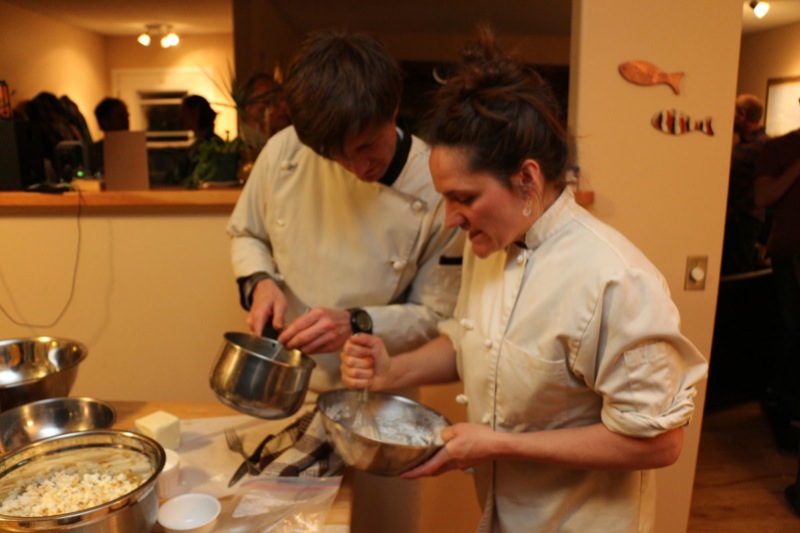 A huge thank you goes out to all the competitors for making the Pop Off Party such an amazing event. Marley will never forget this particular birthday for sure. Also, a big thanks to our judges, to Leslie for making the birthday cakes, to Nicole Bassett and the Civic Theatre for providing prizes and to all the spectators and those friends who brought gifts and cards.
The kernels weren't the only ones who had a blast that night!
Here are some of the other popcorn recipes from Marley's birthday party:
Lynda and Nelson's "Bacon Bedazzle" Popcorn
order edible glitter (disco dust) from amazon.ca
soak strips of back bacon in maple syrup for 5 days
put on bacon costume
put on "bedazzle" costume
fry maple bacon
make popcorn in air popper
melt copious amounts of butter and add to popcorn, along with salt
add bacon to popcorn
add edible glitter (to taste) to popcorn
cover with foil and insert sparklers into foil (the foil keeps the sparkler ashes out of the popcorn)
light sparklers!
lose to other team with maple bacon sparkler idea
win best costume prize!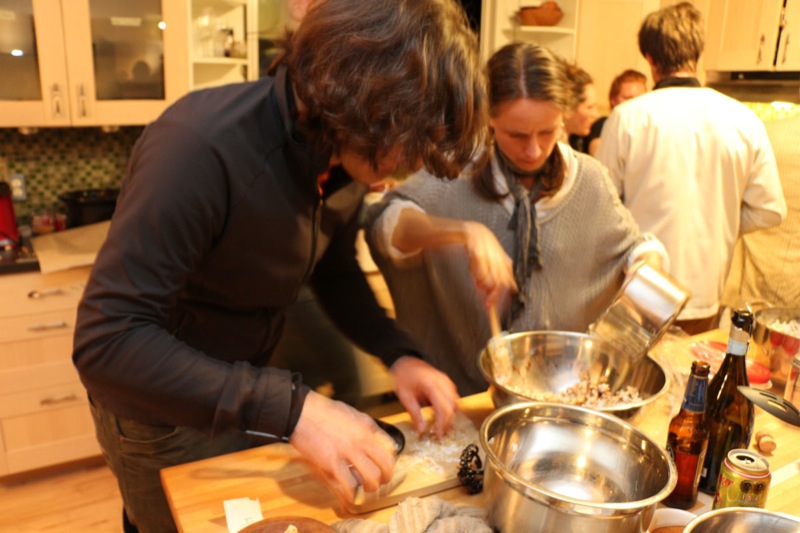 Amy and Joe's Japanada Pop'porn
This recipe features a hot-air popped organic yellow corn seasoned with a mouth-sparkling fusion, specifically the subtleties of the most refined and savoury Japanese Geisha and the sweetness and brawn of a Canadian Casanova who suckled at birth on bottles of the purest No. 1 maple syrup. (Note: Proportions vary depending on how sultry we feel!)
Canadian Organic Yellow Corn
Canadian maple syrup
butter
red chili
mandarin orange
white truffle & flax seed oil
sansho
nori
poppy
sesame
hemp
salt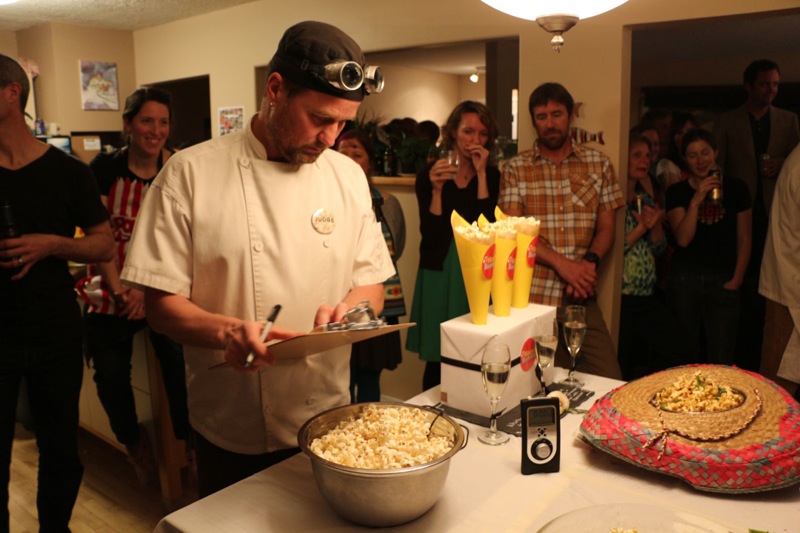 Steven and Alison's Coconut Popcorn
This is simple. But sweet. Combine all the ingredients in a bowl.
popcorn
coconut oil
butter
salt
ground pepper