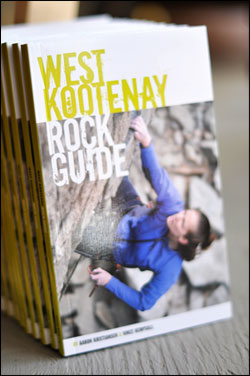 West Kootenay Rock Guide is a full-colour, 160-page, perfect-bound publication that includes summaries of 22 rock climbing areas and over 400 routes in South-Central British Columbia. Every climb around Nelson, Castlegar, Kaslo, Rossland and Slocan City, including the Valhalla Mountain range, is showcased along with tales of the rich climbing history in the region. (Did you know Kinnaird Bluffs in Castlegar was once the site of the hardest climb in Western Canada?) The book was researched and written by local climbers and route developers Aaron Kristiansen and Vince Hempsall and it features the work of local professional photographers. And, the colour-coded route topos are so easy to use, they'll do everything but climb for you. Simply put, West Kootenay Rock Guide is the most comprehensive tool for any rock climber and recreational sport enthusiast living in or visiting British Columbia.
Updates
Route developers have been busy in the last few years but, because I took a hiatus from working on guidebook items, the updates need updating. Why? Frankly, this is a labour of love and I love climbing more than I love writing about climbing. But as of May 2018 life circumstances have changed and I'm spending more time at home so I'll be publishing the 2018 updates asap. In the meantime, click the link below to download the most recent PDF document of new routes in the area and, to see photo topo updates, log on to the Wonow's Rock Guide Updates page.
Where to Buy the Guide
Mail-order sales are available by contacting Wonow Media Ltd. at info@wonowmedia.com. Alternatively, the guide can be purchased at any of the following retail locations.